The Walls Have Come Down.
In late December, we bode farewell to the fitness instructors and group fitness classes that have been a part of American Fitness for several years. In order to make room to grow, you must be willing to let go of what you have. The plan included opening up the fitness room, remodeling it, re-organizing and relocating equipment and basically just making it all a little better.
By tearing down two walls in the middle room, we created 1,750 sq. ft. of new gym member training space. We swapped the cable machines into the back room and pulled the non-weight core training equipment into the middle room. Shuffling around the equipment has made both spaces more efficient for traffic.
Is it all done?
Actually, no! There is a smaller second phase of the expansion that will involve adding athletic turf just outside the new training area. Here is a quick concept render of the final space just to give a sneak peak into the finished project..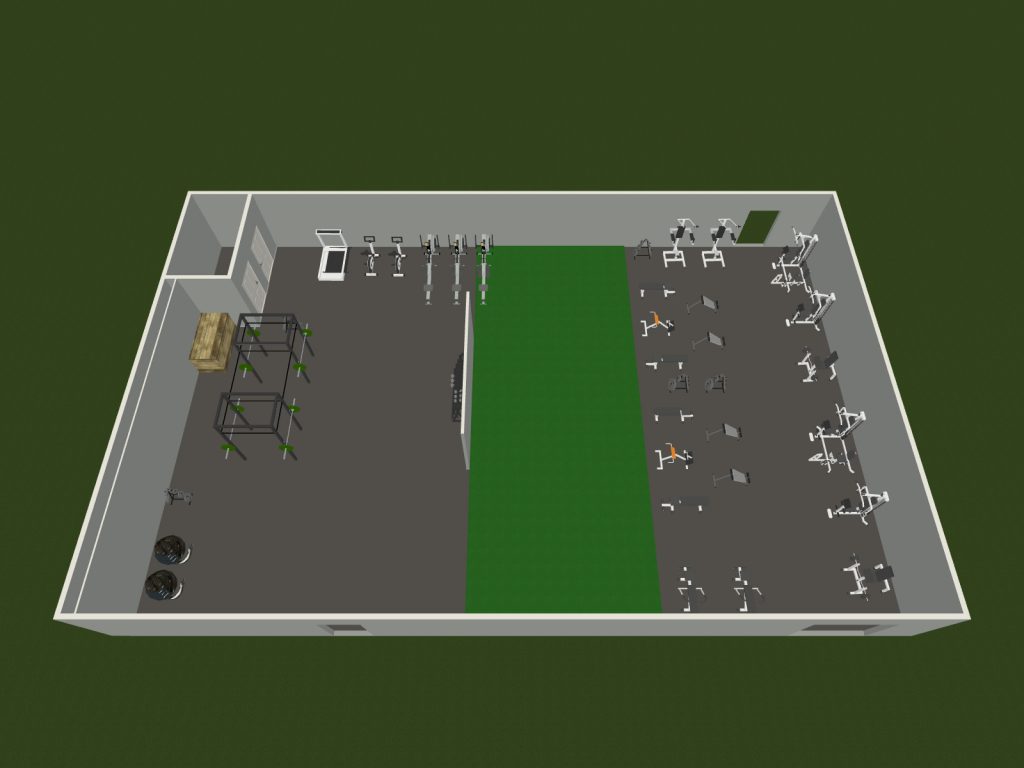 Phase II will be implemented in Spring 2020.
THE TEMPLE
The re-created fitness room is now called THE TEMPLE. It is home to a bunch of new equipment including Assault Bikes, Kettle Bells, the HIITMill, 2 more Concept rowing machines, plyo boxes, two battle ropes, and a new 14 ft rig with 20 kg and 15 kg barbells and bumper plates. And most importantly, there's SPACE to move and set up your own workout!
Why is it called THE TEMPLE?
This space is built for people who are disciplined and want to create themselves new every day. Born again through their work and consistency and rising above their limits. … and because Jay really wanted to call it that.
Who can use THE TEMPLE?
All gym members can use THE TEMPLE and any equipment in there. In addition, this room is home to the new AFT: Results Driven Training Sessions. The room will be unavailable during these times and will be cleared 30 minutes prior to the start of the session.
Are there any rules?
Why, YES! See Below.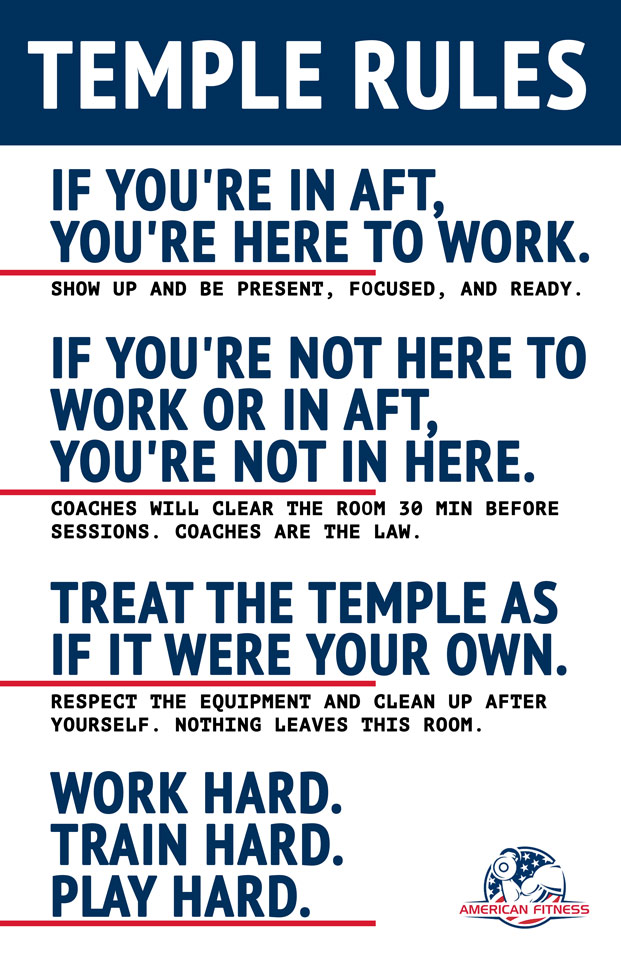 Basically, respect the space and don't move equipment out of the TEMPLE, please.
AFT: RESULT DRIVEN TRAINING
A new space with new gear gives new opportunities. Our group fitness classes went away and are introducing a new small group training program that utilizes the space and equipment in THE TEMPLE.
AFT Sessions are not a group fitness class. They are Small Group Training lead by personal trainers. The sessions are limited to 12 people with a variable format involving some degree of interval training. The sessions are designed for all levels and they will be as challenging to you as you need them to be. If you're unfamiliar with interval training or small group training, sign up to a session and come 15 min early for a quick orientation.
AFT was developed at American Fitness Gym by American Fitness Gym for AF MEMBERS. We took the hard work we see every day from the members and built a program that reflected that intensity.
FREE SESSIONS
From January 14 – 31, all members receive 3 free AFT Sessions. All you have to do is stop by the front desk and grab your AFT Session Pass, reserve your spot, and show up!